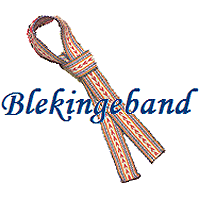 Peg's walk down her Blekinge roots

By Eva Cumner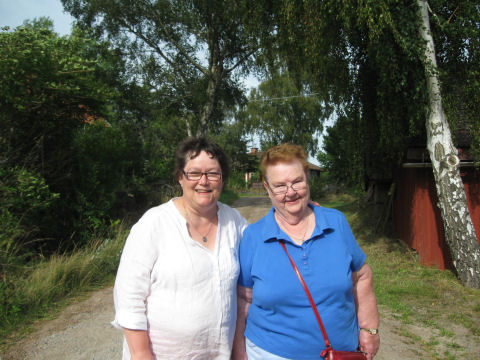 I was contacted in June 2012 by Ernie Olson from America who I've helped finding his Blekinge roots. As it happened Ernie and I are related four generations back, his father and I are 4th cousins. He said he had been in touch with one of his fathers cousins who wanted to know more about her side of the family and wondered if it was alright to give her my E-mail address, which I readily agreed to.

A couple of days later I got an E-mail from Peg, telling me a few details that lead me on to her side of the family. Peg and Ernies father Einar are cousins, their mothers were sisters. Peg told me that her mother passed away when Peg was 3 years old. Her father remarried and she had a good stepmother. Her father passed away when she was 13 years old, so she had many questions about her parents early days and backgrounds.

After several mails back and forth and contacts on Facebook with Barb, who was helping Peg to plan the trip to Sweden and who also accompanied Peg and her granddaughter Heather with husband Eddie on the trip, everything was set up. Barb is among many other things a Swedish teatcher in the US!

Meanwhile I was researching the history of Peg's father and mother who both came from the same area in Blekinge, Edestad and Hjortsberga. It is also through Peg's maternal grandfather Peter Andersson that I am related to her. Our roots meet a few generations earlier in Lars Persson, son of boatsman Per Eriksson Wolf in Ulfsmåla, Tving parish in Blekinge.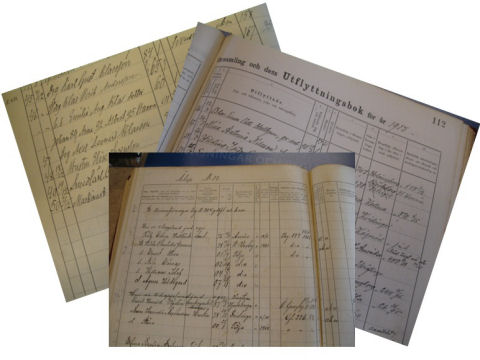 From the information I'd found my partner and I started planning Peg's day down her roots on August the 4th 2012.

Earlier in the week we went to the areas involved to check things out before the Day. Edestad church was being restored, so we could not go in there. We thought we had to show them at least one church and since one of Peg's ancestors was born in Boråkra, Nättraby parish we decided to take them to Nättraby church. My partner talked to the verger on the phone and we were allowed to come into the church on the Day soon before 2pm, after that they were going to prepare the church for a wedding.

We also went to Rydsgården in Johannishus, Hjortsberga parish, the area in which Peg's paternal grandmother was born. We noticed a couple of tables and seats that could be used for a purpose!

We also managed to locate the house that Peg's father lived in for at least three years before moving on to Skåne at age 16. We talked to the owner and also to some neighbours, because we needed space to park the cars, as it is a narrow country road the house is situated by.

Back home I started looking for possible relatives buried at Edestad parish church and found two graves that we could go to.

So, everything was coming quite nicely together.

Friday 3rd August the gang arrived at their hotel in Karlskrona late afternoon and I had a phonecall from Barb. We arranged to meet at the hotel and we walked over there. After meeting we went across the road to the city marina for a meal at Lisas sjökrog, an enjoyable sunny evening.

Saturday 4th August, we met soon before 10 and went to the Maritime Musuem in Karlskrona - a place of interest for the family, since Peg has at least 5 boatsmen (naval soldiers) in her background.

After a little something to eat at the restaurant Skeppsgossen at the museum we set off on our trails early afternoon.

We drove through country roads past Boråkra in Nättraby parish and on to Nättraby church, where we made our first stop. The church is nicely situated by Nättraby river and the church and lands are meticulously kept. What we didn't know was that the pastor Kerstin Högelius was there and she guided us in an excellent way in the church. After having worked abroad her English was perfect, and she really brightened up our visit there.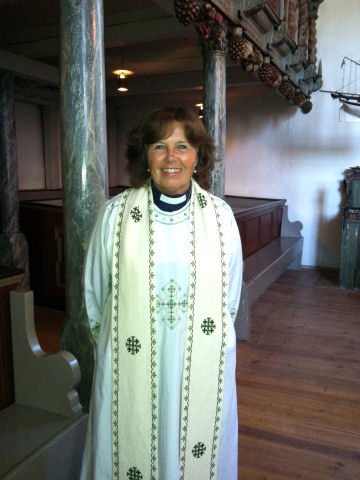 Barb asked her if she could say The Lords Prayer in Swedish for them which she did. It was a very emotional moment for everybody. Granddaughter Heather, who is the mother of three, was very interested in the metal tree in the church that had some glass drops hanging on it. Kerstin explained that each drop was placed on the tree when a child was baptised and the glass drops, made by the local glass artist Malin Mena, hung on the tree for the rest of the year, when all the families of the baptised children were invited to a meeting, when they would all get their own drops off the tree. Outside the church, a photographer was taking pictures of the couple who was getting married later that day, so we even got to see the bride and groom.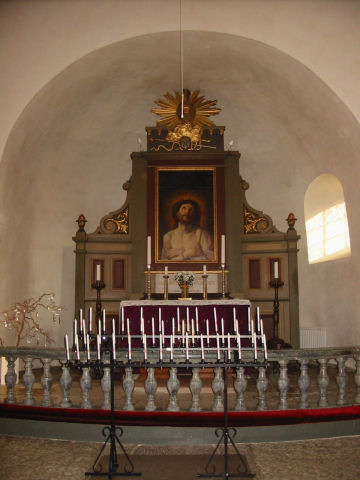 After a look around at the cemetery, we went on to our next stop at Rydsgården.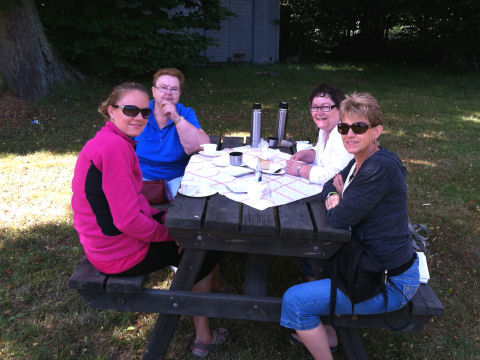 Noticing that there seemed to be preparations for a party there we got a little bit worried, but we were allowed to use the table and seats for a while, since the guests for that party had not yet arrived. The look on Pegs an the rest of the gangs faces when I brought out a tablecloth, then cups and coffe flasks and cinnamon buns was interesting to study! They then admitted to having started getting a bit hungry, so it was a success, needless to say. Nothing like a Swedish "fika-paus". Peg's paternal grandmother was born at Ryd in a little house somewhere on the premises.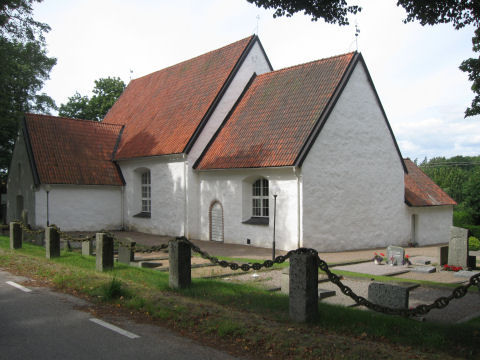 After the coffee break we went on through the Hjortsberga area and past Hjortsberga church to Edestad church. Since I had found the two graves we still wanted them to see the church building and the cemetary. And what's more - they have an excellent toilet by the car park at Edestad church, well needed after coffee drinking. We looked at the graves and the seemingly newer one really caught their interest. On seeing an empty vase lying beside the tombstone, Peg wanted to leave a message to those who visit the grave and plant flowers there. She wrote a message, put it in a plastic folder and put it inside the vase which whas lying on it's side with the foot a bit up so that nothing will fill it in case of rain. It now remains to be seen if she gets a reply. Heather's husband Eddie smiled and said it almost was like a message in bottle.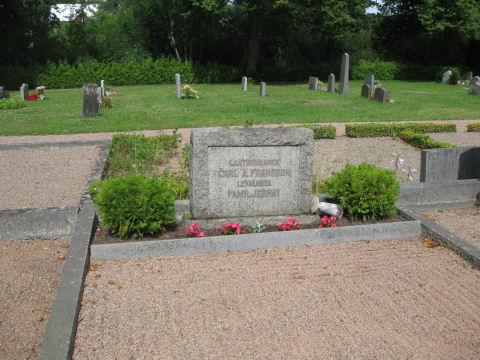 These few stops had taken nearly all afternoon and it was now time to go to our last stop of the day. We have tried to find out where Peg's father Emil had been throughout his childhood, but not quite succeded yet. For some reason or other he was not listed with his parents apart from when he was newborn and Peg knew that he had been living with his aunt for some time. The aunt was the sister of Emils mother Hedda, Karin Andersdotter. She is listed as a cripple, but despite that she had managed to study to become a teacher for small children. And that she did at Binga school for small children. We now stopped at Binga school, where the owners were good enough to let us walk in the garden, and had a look at the house where he lived with his aunt Karin between the age of 13 to 16. That is what it says in the household examination rolls for Edestad, but Peg is quite certain that Emil lived there before that. His parents lived in Karlsborgs fästning parish in the province of Västergötland when Emil was born in 1887, though according to birth records in Hjortsberga he was born there. Soon after that the parents moved to Förkärla parish and Lilla Vambåsa and little Emil is not listed with them. In 1900 he is listed in Edestad parish as having been transferred from Karlsborgs fästning parish. Further research might shine a light on the missing records one day. At age 16 he moved to östra Ljungby parish in Skåne. At age 17 he moves to Björnekulla parish and around 1908 he is listed as a blacksmith's apprentice. 1910 he marries Pegs mother Victoria Andersson and in 1911 their son Yngve was born. In 1913 the family emigrates to America.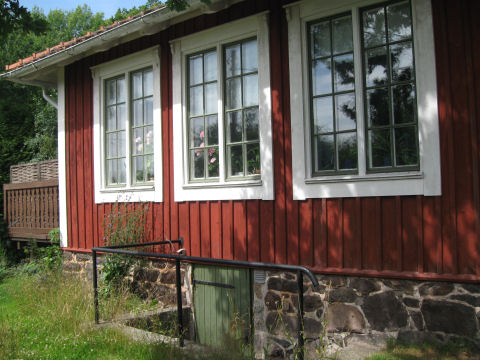 Binga småskola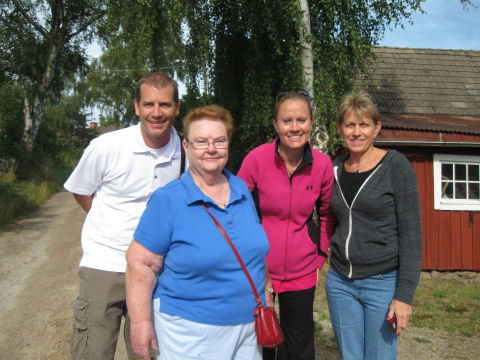 Eddie, Peg, Heather and Barb


The day was finished in Karlskrona over a meal at The Fox and Anchor and we all parted after a memorable day. They would go on to Trelleborg the day after to meet up with newfound relatives there.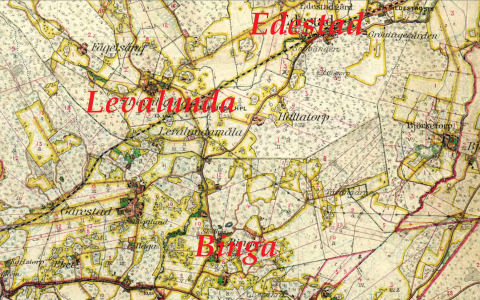 Large map

Peg´s paternal ancestors - Peg´s maternal ancestors
Ostkanten - uppdated 2012-10-26 - Eva Cumner ©